I've seen some journalists making fun of folks who feel real urgency to reopen the economy and get back to work and earn a living.
And I understand their point.
It's fun to punch down and get your giggles while still collecting a paycheck.
It's called "
Social Sadism and the Sadocratic Impulse
".
But there are other ways to get your cheap yucks. Here's one of them.
From KHOU TV, Houston:
Odessa SWAT team responds to 'Open Texas' demonstration, protesters arrested


A rally in support of Big Daddy Zane's Bar spurred the response of the Odessa SWAT team.
As the story relates, the demonstrators had rifles in the bar which is illegal. You can carry a weapon in many locations throughout the state but not in a bar.
*
In fact, one of my favorite stories about West Texas was an out-of-state visitor who was pulled over by a Texas Ranger who was obviously a fan of "
Miss Congeniality
". As the Ranger approached the vehicle the visitor said: "I should tell you, I have a pistol in the glove compartment" to which the ranger replied, quoting the movie:
This is Texas! Everybody has a gun. My florist has a gun!
, I just wanted to tell you your left rear tire looks like it's going flat.
But that's not the funny bit.
The gentleman on the left, although practicing trigger discipline, is pointing the rifle at his buddy's butt. Which if back matches front is a large, almost un-missable target.
But that's not the funny thing.
Now I know the county has to go with the people they have but those are two of the most out-of-shape Swat team members I think I've ever seen.
And apparently I am not alone in this observation. As Phil of
Phil's Stock World
brings to our attention, a gofundme account was set up: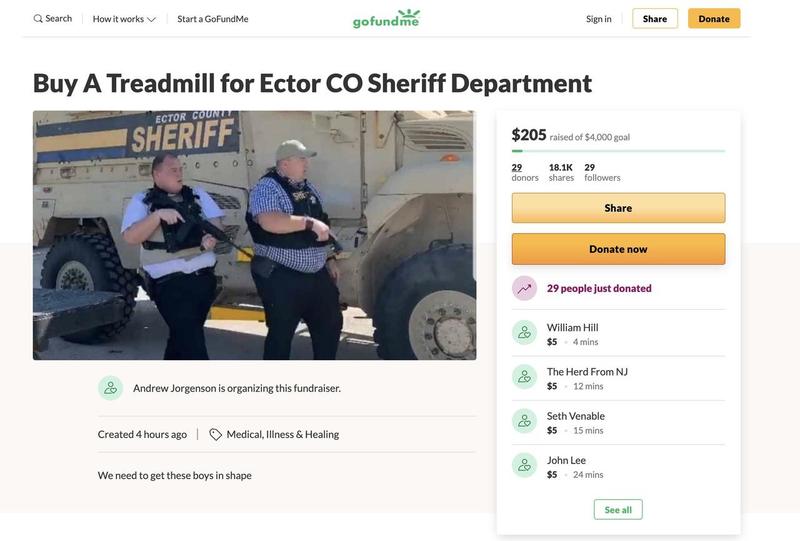 But that's not the funny point here.
The funny part is, those two good 'ol boys will still be getting a paycheck when the closed economy causes the advertising dollars to dry up and the journalists take 70% pay cuts when they go on the dole or unemployment and get smacked with the reality other people have been facing for two months.
Now that's funny, doncha think?
Try a little compassion.
*
And if some day you should find yourself in the Lone Star State, make sure you understand the weapons laws:
May 31, 2019
Meanwhile In Texas: Governor Signs Law Lifting Ban On Brass Knuckles, Clubs, Kitty (Claw) Keychains
From The Dallas Morning News:
Texas Gov. Abbott signs law lifting ban on brass knuckles, kitty keychains and clubs
Updated May 29, 2019 with details about Gov. Greg Abbott signing the bill into law.

AUSTIN — Texas Gov. Greg Abbott has signed a bill into law lifting the state's ban on brass knuckles, kitty keychains and other self defense items.
Abbott signed House Bill 446 on Saturday; the new law will go into effect on Sept. 1, 2019. Bill author Rep. Joe Moody, D-El Paso, said lifting the ban was "another step" toward getting rid of "antiquated laws regarding weapons."

"We did it with switchblades. We did it with knives and now with knuckles," Moody said on May 15, when the Texas Senate gave the bill final passage. "Hopefully, now, with this on the way to the governor, we can ensure these types of laws aren't being used inappropriately to go after folks who have legitimate tools of self defense."

It's legal to openly carry handguns (with a license) and rifles in Texas, and in 2017, lawmakers eliminated a 145-year-old ban on carrying knives in public. But brass knuckles remain illegal. Simply possessing something that fits this description — including plastic "kitty keychains" and other self defense items — is a Class A misdemeanor punishable by up to $4,000 in fines and a year in jail....

MORE
Previously, July 15, 2017: