From SpaceWeather:
THE GREAT GEOMAGNETIC STORM OF MAY 1921: 99 years ago this week, people around the world woke up to some unusual headlines.

"Telegraph Service Prostrated, Comet Not to Blame" — declared the Los Angeles Times on May 15, 1921. "Electrical Disturbance is 'Worst Ever Known'" — reported the Chicago Daily Tribune. "Sunspot credited with Rail Tie-up" — deadpanned the New York Times.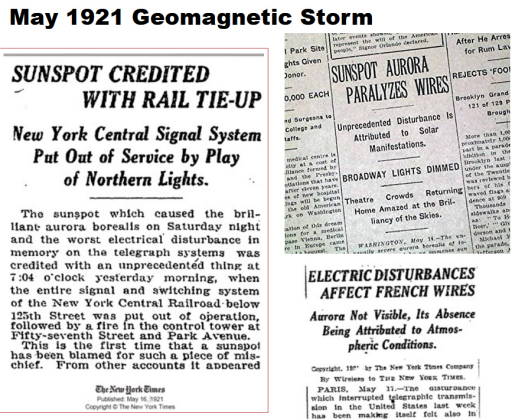 They didn't know it at the time, but the newspapers were covering the biggest solar storm of the 20th Century. Nothing quite like it has happened since.

It began on May 12, 1921 when giant sunspot AR1842, crossing the sun during the declining phase of Solar Cycle 15, began to flare. One explosion after another hurled coronal mass ejections (CMEs) directly toward Earth. For the next 3 days, CMEs rocked Earth's magnetic field. Scientists around the world were surprised when their magnetometers suddenly went offscale, pens in strip chart recorders pegged uselessly to the top of the paper.

Then the fires began. Around 02:00 GMT on May 15th, a telegraph exchange in Sweden burst into flames. About an hour later, the same thing happened across the Atlantic in the village of Brewster, New York. Flames engulfed the switch-board at the Brewster station of the Central New England Railroad and quickly spread to destroy the whole building. That fire, along with another one about the same time in a railroad control tower near New York City's Grand Central Station, is why the event is sometimes referred to as the "New York Railroad Superstorm."....
....
MUCH MORE